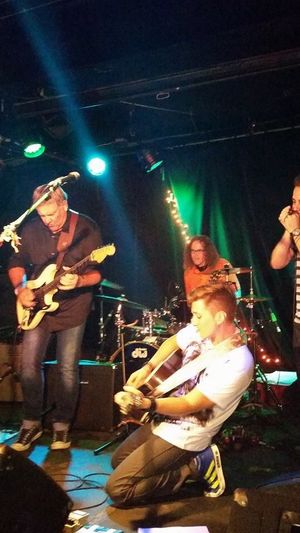 After a very short prep time, schedule and flight coordination, merch and poster design and strong street team effort, me and my amazing team managed to get a concert together for the Toronto launch of my record Come to Life at Supermarket in Kensington Market, Toronto, Canada.
Every musician on stage with me last night is not only truly excellent, but gave it their all and the result was so utterly buoyant.
Thank you Pete Devlin, Steve Costello, Ryan Brown, Aimee Lynn Chadwick, Marty Stelnick, Alex Lifeson, Christine Hamilton, Josh Miles Joudrie , D'Arcy McGuire (all of whom actually played on the record.)
You guys are all legends to me. I can't believe we got you all together on one stage.
Thank you to the videographers, publicists (Jane Harbury & co) press, sound recordists, merch sales and door volunteers, graphic designers, tech crew, the only 2 wonderful women who were on staff to wait on and bartender to over 150 people (and told me my crowd was incredibly cool and accommodating)
Thank you to the supporters, many of whom came dressed in the neon 80's theme and all of whom looked spectacular.
Thanks
Christian Bobak
, Hernan Morris, Paul Reid, Francis Salcedo for the great pics and videos.
The show was meticulously recorded to 16 discrete tracks into Pro Tools and professionally videotaped, and we look forward to sharing the results with you soon.
For the latest news, songs, videos and show listings stay tuned to http://KeramSongs.com and sign up to the newsletter!
You can also follow Keram on Twitter, Facebook, Tumblr @KeramSongs
Come to Life is available now at CDBaby, Amazon, iTunes, eMusic, CDUniverse, Bandcamp and from the official KeramSongs.com site.
The physical CD version includes 16-pages of lyrics, liner notes and full color art.